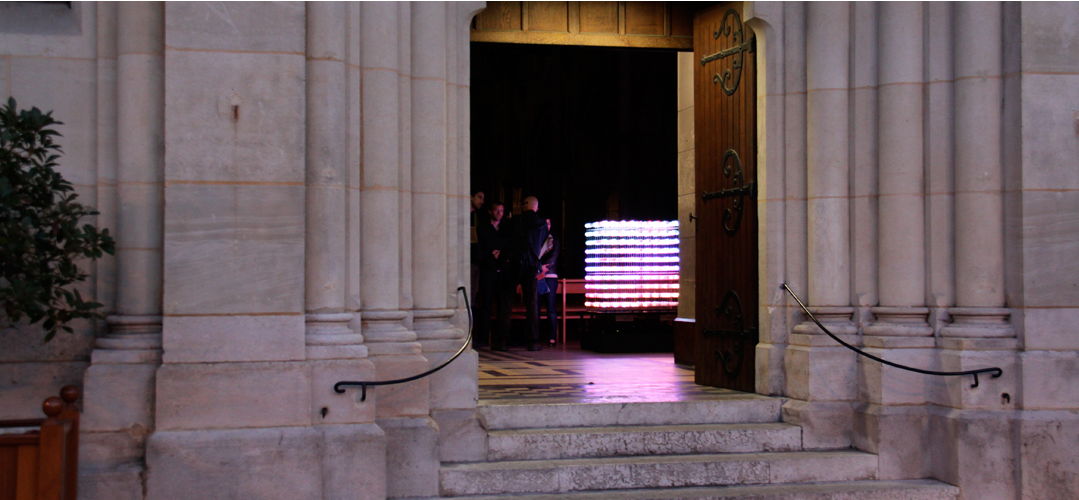 NOVA : Discontinuum
a Squidsoup project


An evocation of place as well as a visual deconstruction of time and space, Discontinuum was shown at the church of St Joseph, in Enghien-les-Bains, Paris - a commission by Bains Numeriques and curated by body>data>space. Live footage from a hidden webcam was mixed with static imagery taken from the stained glass windows in the church; the brilliant colours of the glass reflecting in and radiating from the NOVA 3D LED cube.A camera feed is passed through physical space over time, creating imagery that contains fragments from a range of times simultaneously
Unlike a 2D image taken over a long duration - which would essentially be a blur - the time is ordered in the third dimension, as if time was flowing in a particular direction..
Seen from ahead, the image is superimposed on itself, similar to its 2D counterpart, but from other angles, the flow of time through space can clearly be seen. And from behind, time slowly fades away into the distance.The project builds on ideas first implemented in Squidsoup's Freq2, and also on knowledge and techniques derived from research into the creative visual possibilities afforded by 3D grids of individually addressable points of light.
Discontinuum was created on the NOVA system. NOVA is claimed to be the world's first full-colour 3D LED video screen, and was conceived and built by ETHZ (Swiss Federal Institute of Technology) to visualise scientific data dynamically in three dimensions.




Squidsoup is a digital arts group specialising in immersive interactive installations within physical 3D space. Their work combines sound, light, physical space and virtual worlds to produce immersive and emotive headspaces. They explore the modes and effects of interactivity, looking to make digital experiences where meaningful and creative interaction can occur.
Contributors: Anthony Rowe, Gareth Bushell.





:: More details about this project, and others, can be found on our blog, here.
squidsoup page